I haven't done a WIAW post in awhile, but after Sunday's eats I thought it was worth bringing  back into the blogging line-up.  I don't have a lot of pictures to share, but I did want to include a few of the highlights.  Note that my un-pictured eats included a ton of fresh sliced veggies as appetizers and a sliver of chocolate 'dream' cake that my mom made for my brother's birthday in place of cake.  The slices went too fast before I could even take a picture, but just imagine a chocolate pudding pie with whip cream folded into the filling and then placed in a pie crust.  It reminded me a lot of a French Silk pie and was especially tasty topped with a little extra whip cream.
Since I knew treats would be enjoyed later in the day, I wanted to keep breakfast light while still indulging in an Easter themed meal.  Carrot cake is a classic spring and Easter dessert, so I decided to use my Vitamix to whip up a healthier version in smoothie form.  I am going to share a recipe for this Carrot Cake Smoothie on the blog soon, but for now I will just share a sneak peek.
How good does that look?  I used coconut milk as the base and it's topped with raisins and walnuts.  One of my favorite muffins ever is the Better Morning muffin from a local coffee chain, Boston Stoker.  This smoothie reminds me a lot of that muffin with a hint of sweet cinnamon along with all the traditional flavors found in a classic carrot cake recipe.
It was definitely a great way to start Easter morning; healthy, satisfying and still playing into the flavors of an all-time favorite Easter treat. Our Easter lunch was filled with all the classics including ham, roasted veggies galore and even a roll or two.  I am not a huge fan of mashed potatoes so I usually skip those in place of a soft, carby roll instead.
My request was a lot of roasted veggies and my mom definitely delivered on those.  I piled my plate high with roasted asparagus, brussels sprouts, zucchini, squash, cauliflower and onions.  It was all good, but I think my favorite bite of all was a combination of roasted onion with ham and a little gravy.  The salty ham along with the strong bite of onion really played off each other well.
Along with a few bites of the chocolate pie that I mentioned above, I also had a little chocolate out of my Easter basket for dessert.  I have a couple dark chocolate bunnies that I am saving for those times when I need just a bite or two of something sweet after dinner, so I had a tiny dark chocolate Easter egg and half of my favorite cream filled chocolate to end my Easter on a sweet note.  They come from a local chocolate shop, Esther Price, and it is my all-time favorite brand of chocolate.  It reminds me of my childhood with each and every delicious bite!
I had another small serving of veggies and ham for dinner later in the evening, but besides that I think I covered all my Easter Day eats.  Thank you Jenn for hosting today's WIAW!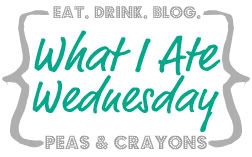 Conversation Time.
What was on your Easter Day menu?  What was the best thing you ate?
What is your favorite chocolate to find in an Easter basket?  Is there a kind that reminds you of your childhood?
What is your favorite Easter dessert?