** If you missed yesterday's Living Dayton segment on How-to Make Smarter New Year's Resolutions, you can view it here!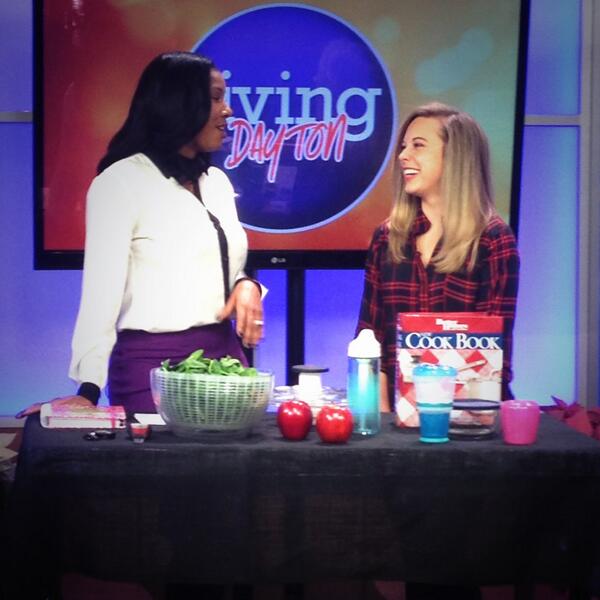 (Above photo via Living Dayton's Twitter Account)
It is hard to believe, but here we are at the end of 2013…
Every year, December 31st is such a bittersweet day. It can be quite overwhelming and scary to say goodbye to another year, but it is also very exciting to see what's to come in the year ahead, especially with my little family! Love these boys so much!
It is pretty amazing to look back at December 31st, 2012 and realize I had no idea what the next year would bring.  I knew at the time I wanted to write for magazines, but I didn't know where to even start and was honestly afraid of rejection.  I wanted to pursue my blog in a deeper and truer way, but I was scared to let my personality and feelings shine through for fear of judgment.  As far as media goes, let me be completely honest in saying that television opportunities were absolutely nowhere in sight; I didn't think I would ever feel comfortable enough to take that leap! 
I believe this past year was a huge time of growth for me both professionally and personally. This little blog has started to gain more exposure and I was able to pursue my dream of writing by reaching out to local magazines. 
And remember that whole television topic that was more of a fantasy than an actual goal?  Well, I am happy to report that I have now done seven television segments since mid-October.
Here I am, 365 days later feeling stronger, more confident, happy and optimistic!  Sure, I have had opportunities surprisingly come my way, but I have also worked very hard, prayed a lot, and put myself out there like I never thought I could.
In 2013 I…
Spent Time with my Sweet Family
Stepped-up my Recipe Creations and Focused on Improving my Food Photography
Exercised Consistently with my Best Running Buddy and Nourished my Body like Never  Before
Celebrated a Buckeyes Win!
Took Tebow to the Cincinnati Reds Bark at the Park
Traveled to Hilton Head, Myrtle Beach, Savannah, and Boston
Partnered with some Amazing Companies
Experimented with Fashion and Gained Self-Confidence
Ran through Boston on my 25th birthday
Celebrated my 25th Birthday!
My confidence has been given a boost each time I have tried new things and stepped out of my comfort zone. For someone who has always preferred to stay more introverted and reserved, putting myself out there for the world to see is never easy. Not everyone has perfect days, and I have realized that is okay. Nothing in life is ever perfect, but there is such a thing as a 'perfect me' and that is exactly who I am today: the good, the bad, and even the not so pretty.  I am only human, and after 25 years I have decided to cut my imperfections some slack and live each day to the fullest.
I have gained a newfound appreciation for mistakes in my past as I am starting to realize they truly have helped shape me into the woman I am today. Although I want to continue to improve and become stronger as I face life and the obstacles that will come; I can also honestly say that I have made leaps and bounds in the past year. I am really looking forward to seeing what God has in store for me in 2014. As long as I keep Him at the center of my life, I know I will be protected and good things will be presented to me and my family. In 2014, I want to trust His plan and His plan only; whole-heartedly and no questions asked. 
Here's to the New Year ahead, and may 2013 end and 2014 begin on wonderful notes for us all! Have a safe and wonderful night!
Conversation Time.
What was memorable for you in 2013?
What are your plans for ringing in the New Year?
Like this post? Check out these reads too!