My regular readers know that I work really hard to share clear and pretty foodie pictures here on the blog.  Sometimes this means I turn a plate or bowl multiple times, in a variety of locations, until the perfect angle and lighting is obtained.  Yes, ten pictures of my bowl of chili may seem a bit extreme, but I don't mind the extra work if it means the pictures turn out nice.  This is also why 99.9% of all my What I Ate Wednesday shares come from the weekends.  True, I have more time to style the food, but the main factor is that the lighting is much better during the day.
This is a Buffalo Chicken Chili recipe that will be coming to the blog very soon!!
Here's the thing, I eat breakfast when it is dark out, I eat dinner when it is dark out, and my lunch is most likely packed in a Pyrex container.  It is obvious that pretty weekday meals my schedule does not make!  The summer is typically better due to the lighting, but the winter months are basically a lost cause.
However, I thought today I would go outside my comfort zone and share some less than perfect pictures of my daily eats.  This way, you can take a peek into what a true day of eating really looks like when I am balancing the blog, a full-time job, maintaining a home, taking care of my puppy and husband, freelancing, and exercising.  Let me reiterate however that although the pictures may not be amazing, I promise that the food still tastes delicious!
Yesterday morning my alarm went off at 5:15 am, I hit the snooze button once and we were up by 5:25 getting ready to take Tebow on a morning walk.  I absolutely love family walks in the mornings!  Tim's schedule can be a little sporadic at times so he may get home at 5:30 pm, or 8 pm…you just never know!  That is why we like to spend time together being active in the morning, because not much interrupts the 5 o' clock hour! Since it has been so cold, snowy and rainy lately too, we have been trying to get Tebow out exercising whenever the sky clears.  Plus morning walks wake me up, help me stick to my fitness goals, and gets me outside into the fresh air for a bit.  I could just go on and on with the benefits, but I think I will skip ahead to breakfast instead…
Yep, let the 'pretty' pictures begin! Don't let the lack of styling fool you though, this bowl of goodness is delicious each and every time.  This is a bowl of Breakfast Cookie Dough Cerealfrom the Fitnessista; one of my favorites (and Ashley's too)!  This mix includes 1/3 cup of raw oats, ½ scoop of Designer Whey Vanilla Praline Protein Powder, a big pinch of cinnamon, a little stevia, almond milk, and oh yes, loads of peanut butter.  Seriously, I think my two scoops of peanut butter is more like ¼ cup of peanut butter!  I personally need a ton of healthy fats for my body to work properly though, maybe even more than most, so I make sure to get plenty at breakfast!  You know my feelings on this matter; never be stingy with your peanut butter!
After breakfast, I proceeded to take a classic mirror shot so I could show all of you my favorite vest for the one millionth time!
It is seriously one of the most versatile pieces in my closet and I could literally wear it every day if I wanted to bore you all every time I do a fashion post! (Speaking of which, it has been awhile since I have done one! I will share one soon!)  I have been trying to give my husband a break from taking my picture  every day by using the mirror instead.  I know he says he doesn't mind, but I also know that one can only take his neighbor waving hello as he takes his wife's picture in the front yard so many times!  I used to think mirror pics were a little silly, but now I love them!  I think it's a great way to document your outfits without having to rely on other people, and it gives your husband just a little break…  Win-win! 

Let's skip ahead quickly through the work day, think spreadsheets, email attachments, and number crunching in excel…
Lunch was a leftover bowl of Mushroom and Chicken Noodle Soup, and my afternoon snack was an orange.  My breakfasts usually keep me full all morning long, and I like my lunch to be lighter.  Nothing makes me crash more in the afternoon than a heavy meal and a stuffed stomach.  I like to have a green tea after lunch for a little pick-me-up, and then a piece of fruit around 3 in the afternoon.  I also drink plenty of water throughout the day, at least 12 glasses.  When I get home after work, I usually have a big snack that will keep me satisfied until we eat dinner around 6:30 or 7.  If I don't, I can get pretty grumpy as this is usually the time I get tired and hungry.  Never a good combination!
Yesterday I had a Snickers Protein Shake, which is one of my new favorites!  I snacked on this while making dinner, doing laundry, blogging and waiting for Tim to get home.
Dinner was a vegetarian chili that was filled with black eyed peas, black beans and cannellini beans, as well as plenty of bell pepper, garlic, tomato and sweet potatoes.  It turned out delish!  I topped our bowls with  a little smoked cheddar cheese, and put a scoop of organic sour cream on both of our servings.
So there you have it; typical weekday eats for me!
Thank you Jenn for hosting today's WIAW!  If you are looking for more eats, make sure you stop by the blog Peas and Crayons for the weekly link-up!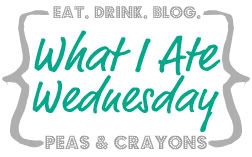 Conversation Time.
How many times a day do you eat?  Do you prefer morning and afternoon snacks, or do you like to skip those?
Do you prefer a larger lunch, or do you like small meals split up throughout your day?
Do you like to have something sweet every day?  If so, what is your favorite go-to treat?